This article was written by Adam Eliyahu Berkowitz and originally published in Israel 365 News on April 13, 2022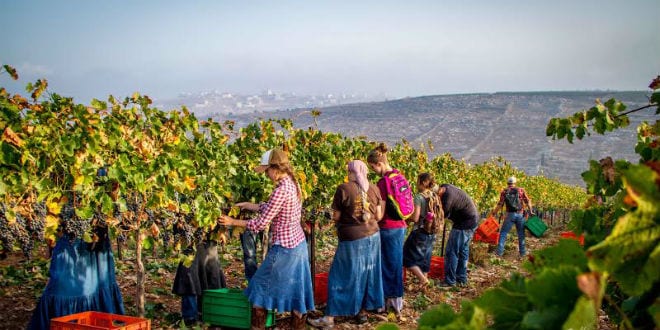 Hayovel has been actively working to bring prophecy to Samaria for a decade and a half by tending vineyards in Samaria. Their new project is even more ambitious; they plan to plant 5,000 trees this year after the Sabbatical and 20,000 trees every year after that. They are already facing stiff opposition from the "sons of Ishmael" as trees are being ripped up, equipment destroyed, and even guard dogs stolen.
A LAND OVERGROWN WITH BRIERS AND THISTLES
When the Jews were exiled, the enemies of Israel began deforesting the land, a process that was irreversible without a massive backbreaking effort. The soil was harmed, allowing thorns and other harmful plants took over while the solid was degrading. As the topsoil washed away, the terrain became rocky and inhospitable to trees.
This tragic reality was envisioned by the Prophet Isaiah:
For my people's soil— It shall be overgrown with briers and thistles— Aye, and for all the houses of delight, For the city of mirth. (Isaiah 32:13)
THE MIRACLE OF HEALING THE LAND
But the prophet also envisioned the healing of the land.
Till a spirit from on high is poured out on us, And wilderness is transformed into farmland, While farmland rates as a mere brush. Isaiah 32:15
Hayovel began bringing hundreds of volunteers to Israel to work on farms in Judea and Samaria in 2007, motivated by their faith to bring about the prophecy as stated in the Book of Isaiah:
Strangers shall stand and pasture your flocks, aliens shall be your plowmen and vine-trimmers (Isaiah 61:5)
Not satisfied with manifesting just one prophecy, Hayovel took up the challenge to also transform the wilderness into an Eden. Despite coming from families that famed the heartland of the USA and having several years of experience in Samaria's vineyards, they quickly discovered that planting trees required an entirely new skill-set. They almost despaired, but God heard their prayers and sent them Roger Ditmer, a volunteer in the vineyards from South Georgia who was later discovered to be an experienced and expert arborist. Under his tutelage, Hayovel took on the challenge of transforming the wilderness.
HaYovel has launched Greening Israel as a platform for the public to learn about and take part in manifesting this prophecy. The project cannot fully begin as this Hebrew year is currently a Shemittah(sabbatical year), and planting trees in Israel is forbidden by the Bible until the year ends on Rosh Hashanna in September 2022.
Although many organizations are planting trees in Israel, there are three things that set the Greening Israel project apart.
They are planting only indigenous trees: After extensive research and testing, HaYovel has come up with more than 20 tree varieties that are indigenous to Israel. They plan to plant these varieties exclusively.
A unique watering system: Through careful testing, HaYovel uses a unique water-box system that ensures irrigation for new trees, even in remote locations. This gives the trees a much higher survival rate – so far, higher than 80%.
Planting in Judea & Samaria – many organizations do not plant trees across the "green line" because of politics and international pressure. One of HaYovel's central beliefs is that Judea and Samaria are part of Israel's biblical heartland, which is why they are focusing their tree-planting efforts specifically in these areas.
HaYovel began planting trees in 2019 and has so far planted more than 5,000 trees. Along the way, they experienced Arab arson, terrorism, trees being uprooted, and property being stolen. This journey was documented in the newly-released Greening Israel film. This cutting-edge documentary tells the dramatic and emotional story of their journey planting trees in Israel's biblical heartland.
The organization is a family effort led by Tommy and Sherri Waller; devout Christian Zionists committed to helping bring Biblical prophecy to life in Israel. On a visit to Israel in 2004f, they saw the physical manifestation of the words of Jeremiah in the replanting of ancient farmlands.
Again shalt thou plant vineyards upon the mountains of Shomron; the planters shall plant, and shall have the use thereof. (Jeremiah 31:4)